The following tutorial details how Foreman users can add infrastructure and manage associations.
1. Adding Individual Infrastructure Components
To add individual infrastructure components to Foreman, click the 'Add Infrastructure' button in the top right of the Infrastructure screen. Next, you'll need to select your infrastructure type from the drop-down menu, then enter a name for the specific component you are adding.
2. Uploading Infrastructure
If you have multiple pieces of infrastructure, the 'Upload Infrastructure' button allows you to upload a CSV with all of your components. Choose the type of Infrastructure to upload, then download the template file. Add all of your components to the CSV file, keeping in mind that you need a minimum of the 'Name' in one of the header columns on your spreadsheet.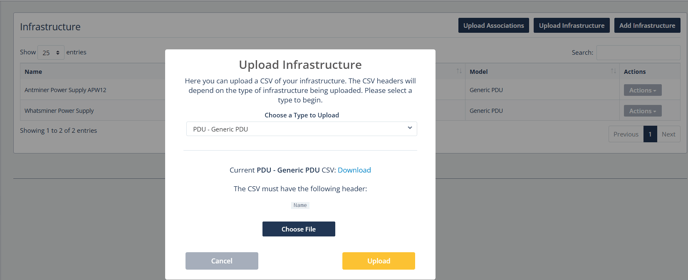 Once your CSV file is all set, click 'Choose File' and then 'Upload' to complete the process.
3. Managing Single Associations
Once you've added your infrastructure components to Foreman, you can link them to locations on your site map. First, click the 'Actions' button on the component you wish to link and select 'Manage Associations' from the drop-down menu.
You can select the Site Map Group you'd like to associate your component with on this page. Once you've chosen your group, you can associate your component with a rack or specific site map location within the group. Next, add an optional identifier, click 'Save' and then 'Done' to complete the association.
4. Uploading Multiple Associations
If you have multiple associations to do at once, you'll want to use the 'Upload Associations' feature. Begin by selecting from the 'Choose a Type' drop-down menu, then download the template file. Next, fill out your CSV file with your desired associations while ensuring you have the required headers on the upload screen.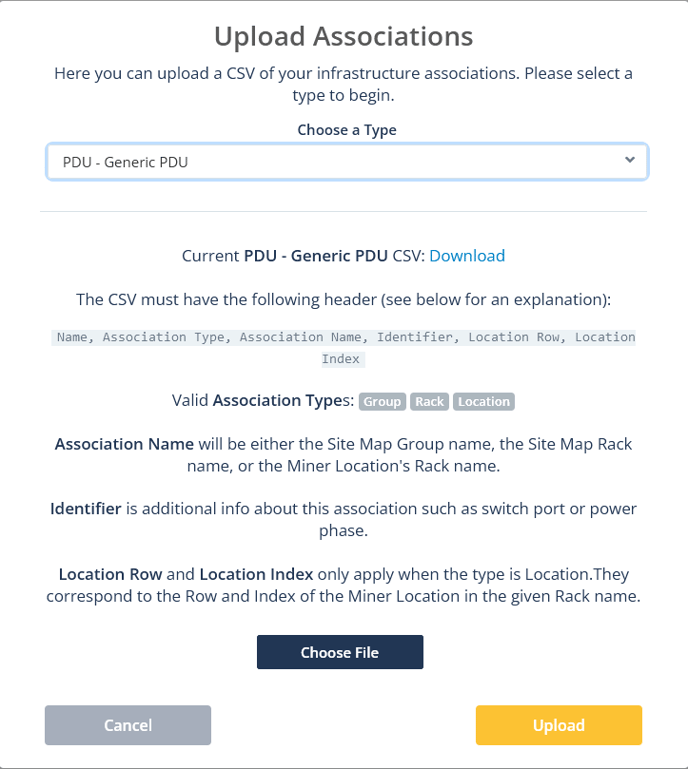 When your CSV file is complete, click 'Choose File' followed by 'Upload.'