Foreman has been updated with the following new feature:
New Features
Profit Reporting
Looking to share information about your operation with stakeholders? Foreman now provides the ability to automatically generate and send daily profit reports to a list of emails you define. This report can be distributed either daily or weekly and contains a snapshot of your farm covering the last 7 days.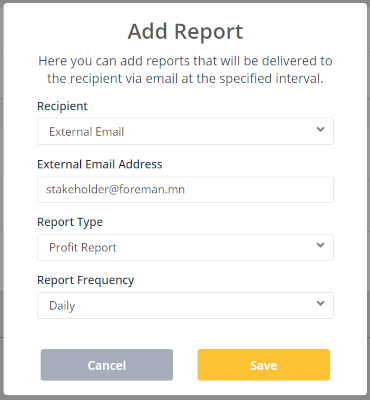 The theme can be customized with your own logo and colors so you can maintain your brand. Click "Customize Reports" on the Reports page to begin that setup.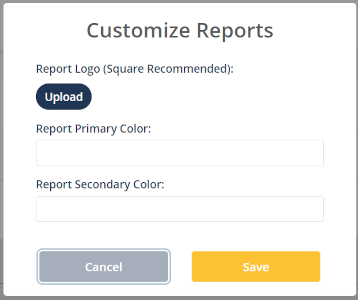 Once you've added a few recipients, they can be managed in the "Email Reports" table. You can modify recipients or send them a report immediately.

Reports are automatically delivered either daily or weekly, depending on the frequency you specify: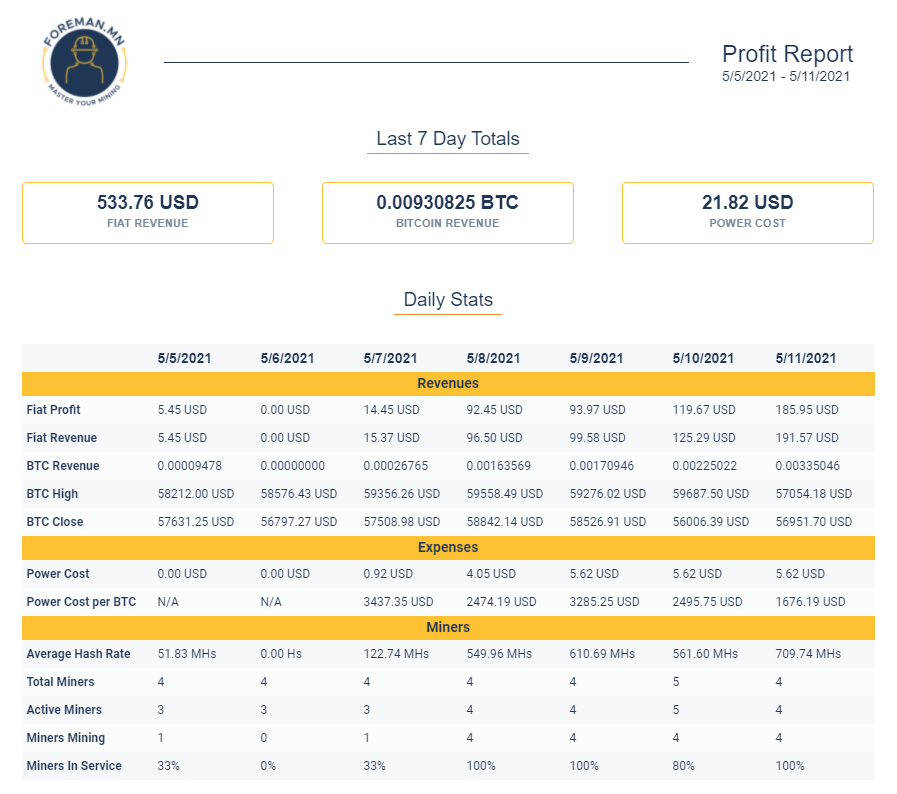 The following defines the information that's displayed:
Fiat Profit: how much you earned in the fiat currency of your choice, after power costs
Fiat Revenue: how much you earned in the fiat currency of your choice, before power costs
BTC Revenue: how much you earned in Bitcoin
BTC High: the peak Bitcoin price for the day (UTC)
BTC Close: the closing Bitcoin price (UTC)
Power Cost: your total power cost for the 24-hour period
Power Cost per BTC: your total power cost to generate 1 Bitcoin
Average Hash Rate: the observed average hash rate
Total Miners: how many miners were added to Foreman
Active Miners: how many miners were in Foreman and expected to be hashing (not disabled)
Miners Mining: how many miners were observed to be hashing within 24 hours
Miners in Service: the percentage of miners miners vs. active miners
For Power Cost to be displayed, your base cost per kWh must be set on the Company in Foreman here.
Additionally, a CSV will also be attached to the email to help with analysis.

Stay tuned for more updates! If you have any questions, contact us on Discord, Twitter, or send us an email!
Master Your Mining with Foreman. Try it for free today!